Cast Stone Sustainability Explained
Cast stone is gaining in popularity for reasons of aesthetics, cost-effectiveness, and ease of design and installation. In addition, there is a growing appreciation of the sustainability of cast stone, especially in comparison with some other construction materials.  Typically cast stone is used as a sustainable alternative to quarried finishing and transportation – as well as brick, cement render and timber, all of which have large amounts of embodied carbon.
Sustainability features strongly throughout the life cycle of a cast stone unit.  The details will vary from on manufacturer to another, but Procter Cast Stone, one of the UK's leading specialists, goes to great lengths to ensure the sustainability of its cast stone products, whether they are standard stock products or bespoke designs manufactured to the customer's specification and colour.
Starting with the raw materials, Procter Cast Stone uses recycled aggregate for as much of each unit as possible.  This aggregate is sourced locally, which keeps transport-related carbon dioxide emissions to a minimum, and other raw materials are almost always from sources within a 50-mile radius.  Some materials are by-products of industrial processes, while the use of imported raw materials is avoided wherever possible.
The process of manufacture is such that energy requirements are relatively low, as there is only a small requirement for powered equipment during mould-making and moulding.  Apart from an initial curing period in a controlled environment, cast stone units are air-dried.
Any products that do not meet Procter Cast Stone's high quality standards are crushed and cycled for use in-house as aggregate, while any steel reinforcement bars or threaded bosses for lifting hooks are recovered for reuse or recycling.  Approximately 95% of the timber used for making the moulds is certified under the FSC (Forrest Stewardship Council) Scheme, with the balance being certified under the similar PEFC (Pan-European Forrest Council) scheme.  Each mould can be reused many times for producing standard products.  Moulds for bespoke products are stored in case of repeat orders, modified for moulding other products, or recycled.
After manufacture, the cast stone units are stored outside, with no need for warehousing or the carbon footprint associated with heating and lighting.  Delivery of Procter Cast Stone products to construction sites is usually on the company's own vehicles.  This compares very favourably with quarried stone, which is often imported form low-wage economies or distant quarries, resulting in considerate carbon dioxide emissions due to the thousands of miles the stone is transported.  Procter Cast Stone can simulate almost any natural stone, so architects can specify cast stone with their choice of finish and colour without having concerns about the transportation associated with natural stone that is only available from specific regions or countries.
Procter's high-quality cast stone products are factory-manufactured to precise to tolerances, so units can be installed without any need for on-site cutting or other modifications, thereby helping to reduce the carbon footprint of the construction process.  Similarly, no post-installation finishing or cleaning should be needed.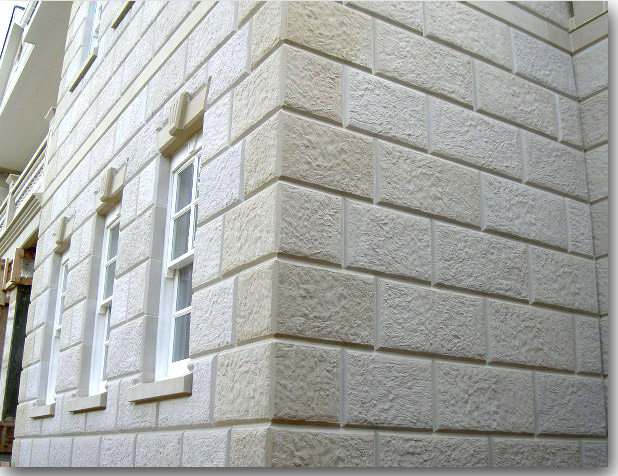 Characteristics of cast stone, such as high compressive strength and low water absorption, mean that this material has a long life, requiring little or no maintenance. Cast stone will no, corrode or otherwise degrade, and does not need repainting, refinishing or the application of preservatives – all of which helps to ensure that the sustainability of cast stone over its complete life cycle is superior to that of many other materials. Nevertheless, if cast stone is damaged, sections can be cut out and repairs performed, so there is normally no need to replace an entire unit.
It should also be noted that, as part of the fabric of the building, cast stone contributes to the building's thermal mass, which helps to reduce energy requirements for winter heating and summer air conditioning. This is especially true when cast stone is used for ashlar walling.
As the end of its life, which is most likely to be at the end of the building's useful life, cast stone units can be removed, mortar cleaned off and the units reused. If reuse is not possible, cast stone can be crushed and recycled as aggregate, with steel components being recovered for recycling.
As a full member of UKCSA (UK Cast Stone Association), Procter Cast Stone is committed to minimizing waste and improving the energy-efficiency of its production process. The company therefore has management systems and monitoring programmes in places, with the aim of making continuous improvements to energy efficiency, waste minimisation and other aspects of environmental management.
Procter Cast Stone has published Understanding Cast Stone – A Guide to cast stone products for specifiers, which contains a wealth of information relating to this sustainable, versatile and cost-effective construction material.